Traveling to the U.S. ? Exchange $250 CAD for $250 USD at *PAR* !

Arkadi Kuhlmann, who founded ING Direct (Tangerine), has started a new online bank in Canada, and is offering a really great deal to persuade people to open an account.
The new bank is named ZenBanx - and anyone who opens a new account before August 3rd, and deposits $250 CAD will receive back $250 USD, at PAR.
If you've been following how weak the Canadian dollar is getting against the $U.S. Dollar lately, you know that this is an *especially* great deal right now.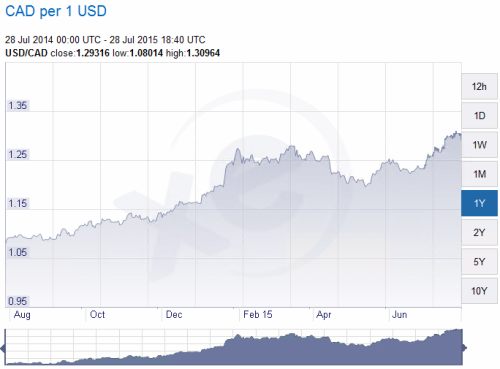 Here's how it works:
Step 1.
Sign up for a new account at https://zbc.zenbanx.ca
You will want to have the following on hand before signing up:
a) your SIN number (required by law when opening a bank account in Canada)
b) a scan or picture of your license (front and back) or you can use your passport or identity card instead. ZenBanx uses this to automatically verify your identity online. If you've ever signed up for AirBNB, and been asked to submit your ID, it's the same kind of technology.
Step 2.
Next, you need to link to an existing bank account. Similar to the way that ING Direct worked.
You have two options:
a) write a cheque of $250 to yourself and upload it with the mobile app (by taking a picture of it)
or
b) enter your bank's info (transit, institution, and account number)
In 2-3 business days, ZenBanx will then make two tiny deposits (a few cents) into your bank account .
Check your linked bank account to see what these amounts are, and verity the amount on your ZenBanx member profile.
You can now transfer money to/from ZenBanx to this "linked" account.
Step 3.
You can now transfer a maximum of $250 CAD for $250 USD. You will receive approximately $180-$190 USD immediately (current market rate).
Within a few days, ZenBanx will top off the difference, giving you a total of $250 USD.
ZenBanx

had a similar promotion back in early July. Since that time, the Canadian dollar has become even weaker against the U.S. Dollar, making it an even better deal now.
Today, if you were to exchange $250 CAD at the bank, or a foreign exchange place, you would only receive $180 USD back. ZenBanx is essentially giving you $70 USD for free for opening an account.


When do I need to sign up by to exchange the money at par?
August 3rd. I would recommend signing up as soon as possible though, because it can take 2 days to link your current bank account.
How would I spend the $USD once I have it?
1) Keep it in your ZenBanx account in $USD and earn a bit of interest.
2) Exchange your $250 USD back to CAD at ZenBanx's market rate. This would be approximately $32X.XX CAD give or take. And then either keep it in your ZenBanx account or transfer it back to your linked external account - free of charge.
3) An ATM card will be mailed out to you. Typically it takes 1-2 weeks. You can use your ATM card in the United States. You can use your ATM card in the United States in the following ways...
a) Use it at specific US retailers listed here: as a debit card. No fee.
b) Withdraw $USD at ATMS in the United States for a fee of $3.
4) At this time, you can only link your ZenBanx with CAD deposit accounts. So unfortunately you will not be able to transfer the $USD balance directly to your bank's USD account.
Q: Is this bank legitimate? I've never heard of them before.

A: ZenBanx was started recently by Arkadi Kuhlmann - the same guy who bought ING Direct (Tangerine) to Canada. ZenBanx is a subsidy of DUCA - DUCA Financial Services Credit Union Ltd. You can find a million news stories on ZenBanx with a simple Google search.
Q: Do I really need to provide my SIN??

A: Yes, in Canada, by law financial institutions are required to collect a customer's SIN when opening any bank account where the customer earns interest income.
Q: I'm signing up and stuck waiting for a verification code. How long will this take?

First check your spam folders. Wait a few hours, if you still haven't received it - give them an email at [email protected] or call at 877-ZENBANX during their office hours (Mon-Fri 9am-8pm EST) and they will be more than happy to manually generate another code for you.
Q: Can my other family members and friends also sign up?

Yes, as long as they are Canadian residents and over 18. There's no limit to how many in a family can sign up. You can also earn $10 extra ($10 for yourself, and $10 for the person who signs up) - if you send them your ZenBank referral link.
After signing up, you can find this link by clicking on the 'Invite Friends' image at the top of the ZenBanx homepage.
Q: Wait, so you're earning $10 for referring me?
Yes, and if you'd rather see it go to a charity instead of towards supporting this site, please visit CanadaHelps.org after signing up with ZenBanx. Choose a charity to support, and then contact me with the amount you would like to donate (and the name of the charity to donate to), and I'll send you back a screenshot to show the donation has been made.
Hit Like if you like this deal! Click Share to show your friends on Facebook.
People That Liked This Page Also Liked:
| | |
| --- | --- |
| | You may also want to check out pages that were tagged with: |
| | |
Be The First To Know About The Next Amazing Deal!
Head to the
YXE Deals Alerts Page
where you can choose to be notified by e-mail, Facebook, Twitter, or RSS Feed the moment an amazing travel deal from Saskatoon is found.
Setting up alerts allows you to be one of the first to see a new deal, before it sells out.
And don't worry, alerts are only sent when it's truly an amazing deal.
Like Our Site? Follow Us!
Comments from Facebookers
Comments from Everyone Else